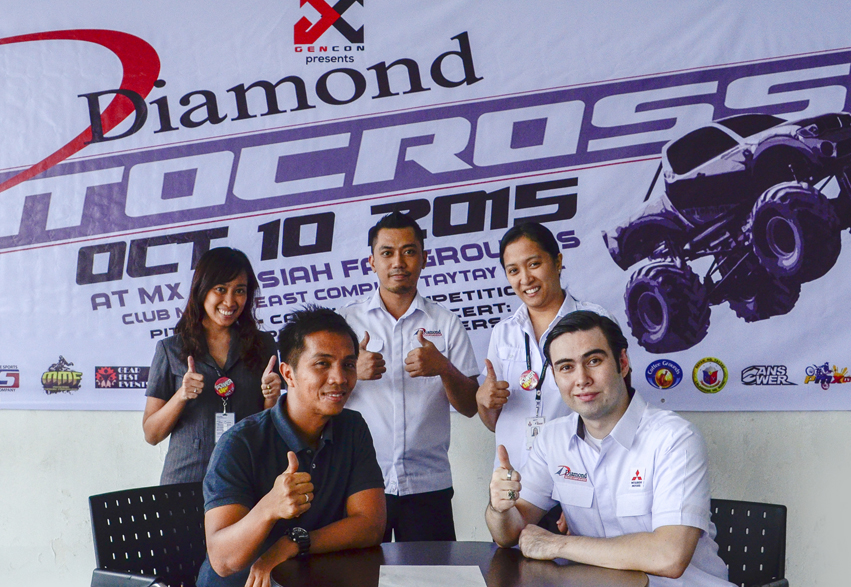 Generation Congregation Director Samuel Mark Tamayo (sitting in left) and Head of Planning and Marketing of Diamond Motor Corporation Jon Blaylock (sitting in right) are all thumbs up for the upcoming Diamond Motocross happening at Mx Messiah Fairgrounds on October 10.
More hype and breathtaking action await the race track as Generation Congregation takes a leap on the dirt bike scene with its Diamond Motocross happening October 20 at Mx Messiah Fairgrounds, Club Manila East, Taytay, Rizal.
Multi-titled Glenn Aguilar together with son Mclean leads the pack on the most watched Pro Open Production against brothers Ralph and Christian Ramento, Bicol-based Enzo and Jc Rellosa.
Grand winners in the moto 1 and moto 2 of the banner category will bring home P10,000.00, P7,000.00, P5,000.00, P3,000.00 and P2,000.00, respectively.
Amateur categories such as amateur open production, ladies open class, veterans open production, executive open class, kids 85cc, kids 50cc and 65cc are expected to wow the crowd as Yamaha Philippines gives the locals a taste of their Yamaha XTZ and PW50.
"The extreme subculture, particularly the motocross segment ties in perfectly with our newly released Strada as well as other SUVs like the Pajero & Montero," said Jon Blaylock, Head of Planning & Marketing of Diamond Motor Corporation.
Registration for Pro Open Production is at P1,000.00, amateur categories at P500.00 while Yamaha XTZ and Yamaha PW50 are P700.00 and P500.00, respectively.
Beyond the extreme sport, the event will simultaneously host several activities such as pit party, Mitsubishi SUV car show and competition, Strada test drive, live band concert, raffles and promo.
International band Dare to Be Dreamers takes the stage along with local bands Firefalldown, Taken by cars, MaryZark, Talata, Fuseboxx and Start First, Finish Last.
The race sponsored by Diamond Motor Corporation is supported as well by Dunlop Tires, Coffee Grounds, Xtreme Adrenaline Sports Entertainment Co, PTT Philippines Corporation, Monster Energy and the Municipality of Taytay.