Aguilar wins Diamond Moto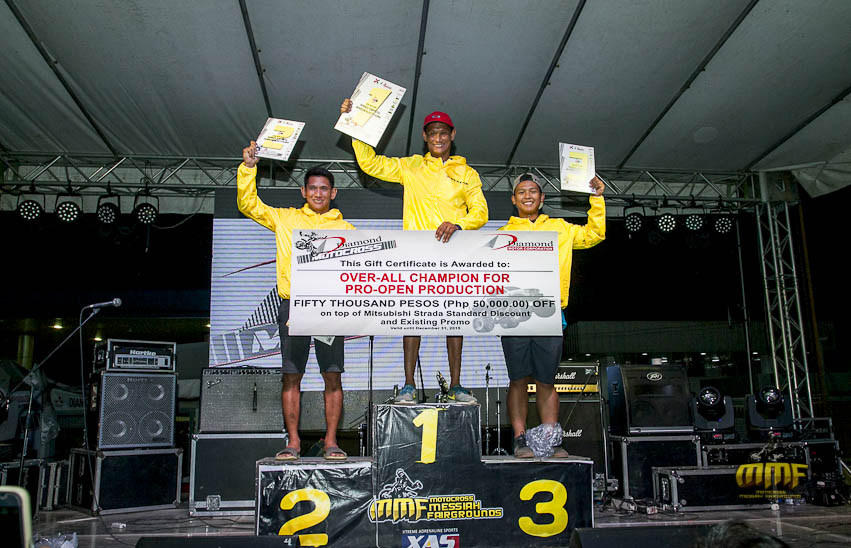 Multi-titled Glenn Aguilar claimed another glorious crown after triumphing the Pro Open category of the recently concluded Diamond Motocross on October 10 at Mx Messiah Fairgrounds, Club Manila East, Taytay, Rizal.
Neck-to-neck did Aguilar overcome rising moto star Ralph Ramento after the full-grown Aguilar dominated both moto 1 and moto 2 of the banner sport.
The presence of local Bebet dela Cruz brought a twist of fate as he finished second overall to Aguilar while Ramento sat on the third post.
Rellosa brothers, JC and Enzo, gave the crowd a leap on their return as JC grabbed 4th while Enzo ended 6th in the overall run.
"I want to have fun and enjoy the race. It took me almost nine months before I got back to motocross but it's good to be back," said Bicol-based Enzo before the race started.
Taytay pride David Viterbo charmed his way to victory in the kids 85 and 65 level as Buboy Antonio bested the amateur open category.
Reliable Jing Leongson won the Veterans open, Buboy Mangosong in the Executive open, Pia Gabriel in the Ladies open and Nathaniel Morales finished first in the Kids 50cc. Meanwhile, Yamaha Philippines also gave the Taytayeños a taste of the Yamaha XTZ and PW50 in their sponsored category.
International band Dare to be Dreamers and FireFallDown graced the pit party simultaneous to the race event sponsored by Dunlop Tires Philippines, Coffee Grounds, Xtreme Adrenaline Sports Entertainment Co., PTT Philippines Corporation, Monster Energy Philippines and Taytay Municipality.
The race sponsored by Diamond Motor Corporation is supported as well by Dunlop Tires, Coffee Grounds, Xtreme Adrenaline Sports Entertainment Co, PTT Philippines Corporation, Monster Energy and the Municipality of Taytay.