Aguilar on MX: Making the sport grow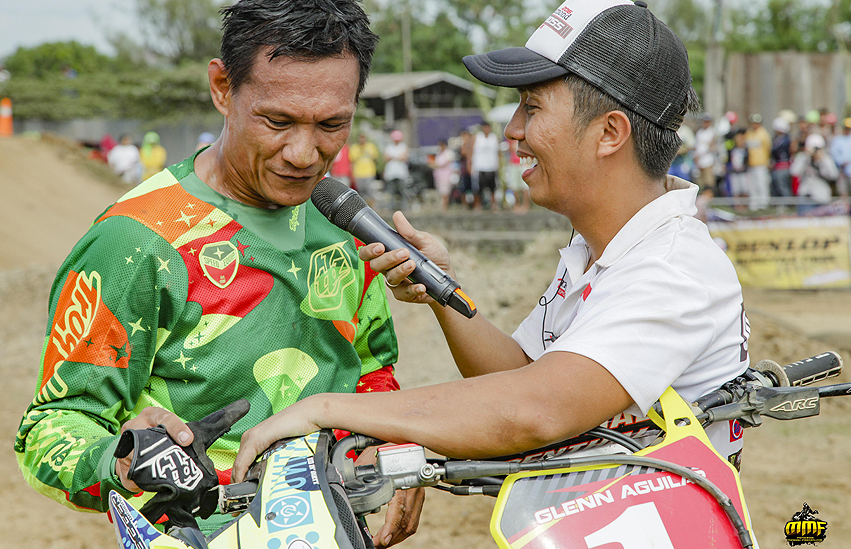 Multi-titled Glenn Aguilar swept off the first leg of the 2016 Diamond Motocross Series with a 2-0 finish last
Saturday at Mx Messiah Fairgrounds, Club Manila East, Taytay Rizal.
"I'm enjoying while making the sport grow. I'm here trying to make the pace faster for the next generation.
There is nothing to prove but have the young guys improve their talent,"said the 16-time Rider of the Year.
"I am thankful to the Lord for the strength since I should be retiring right now… We want to promote motocross
cause it's the sport we love,"added the forty year old Aguilar, also organizing races at Daanghari, Cavite.
Aguilar bested among young gents Rellosa trio, Enzo, JC and Jepoy, and Ramento brothers, Ralph and
Christian while Mindanao-based Doy-doy Bandigan surprised the crowd when he ranked second in Moto 2 and
fourth in Moto 1.
Rising motocross star Jepoy Rellosa snatched the spotlight in the Prolites category from leading Ralph and 3rd
placer Mclean in Moto 1. Ralph was on the peak when his dirt bike stopped inside the track during Moto 2 as
Mclean, Glenn's son, experienced mechanical issue making him not finished the race.
Also seen in action were locals John Antonio who topped the Amateur Open, Jolet Jao in the Veterans Open,
Roman Laurente in the Executive Open, Janelle Saulog in the Ladies category, Wenson Reyes in the Kids
50cc and 65cc, Bienvinido Torres Jr. in the Open Local Underbone, Christopher Oberio in the Open Local
Enduro, Jano Mercado in the MMF Academy as well as Vincent Jimenez in the Newbie Open Production.
Aside from the intense neck-to-neck battle, the event showcased stunts and other activities in the pit party.
Director Samuel Mark Tamayo of Generation Congregation performed a stunt by using a dirt bike to jump over
a Montero Sport.
Other sponsors that made the event more alive were Wheeltek, Dunlop tires, Coffee Grounds, Xtreme
Adrenaline Sports Entertainment Co., PTT Philippines Corporation, Monster Energy and the Municipality of
Taytay as well as bands such as Firefalldown, Reborn, Maryzark, Light of Luna and Nyctinasty.